Experience Convenience and Affordability
When you step off the plane at Malaga Airport, your journey has only just begun. The question on your mind might be, "How can I reach my destination, Nerja, in the most convenient and budget-friendly way?" Look no further – Malaga Airport Taxi is here to provide you with the cheapest taxi from Malaga Airport to Nerja, ensuring a seamless and cost-effective travel experience.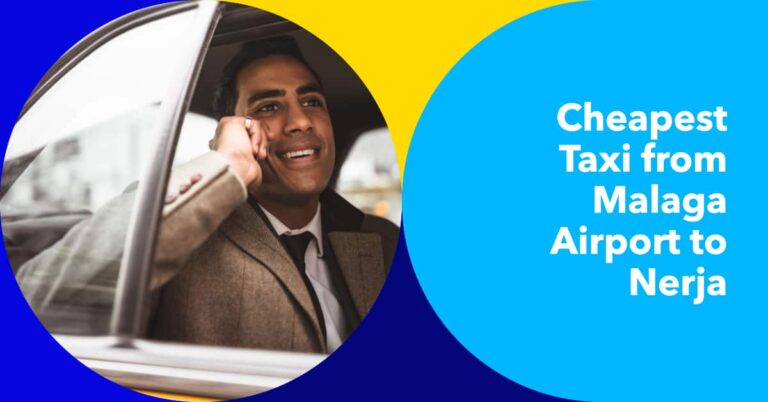 Seamless Transfers from Malaga Airport to Enchanting Nerja
Imagine arriving in a new destination, excited to explore its beauty, culture, and attractions. Your adventure begins the moment you land at Malaga Airport, and to reach the charming town of Nerja, you'll want a hassle-free transfer that doesn't break the bank. Our taxi service specializes in providing seamless transfers, ensuring you start your journey on the right foot.
Unmatched Affordability and Comfort
Your travel experience shouldn't come with a hefty price tag. At Malaga Airport Taxi, we understand the importance of affordability without compromising on comfort and quality. Our mission is to offer you the cheapest taxi from Malaga Airport to Nerja, allowing you to allocate your budget towards making memories and exploring Nerja's breathtaking beaches, stunning landscapes, and vibrant local scene.
Why Choose Malaga Airport Taxi?
Competitive Pricing:
We take pride in being the preferred choice for budget-conscious travelers. With transparent pricing and no hidden fees, you can rest assured that you're getting the best value for your money.
Professional Drivers:
Our team of experienced and courteous drivers ensures a safe and pleasant journey. They are not just drivers; they are your local guides, ready to offer insights and recommendations for your Nerja adventure.
Convenience:
After a long flight, the last thing you need is a complicated transportation process. We provide a seamless booking experience and timely pickups, so you can relax knowing that your journey to Nerja is well taken care of.
Comfort:
Our fleet of well-maintained vehicles is designed to provide the utmost comfort during your ride. Sit back, relax, and enjoy the scenic drive from Malaga Airport to Nerja.
How Much is a Taxi from Malaga Airport to Nerja?
We understand that budget planning is an integral part of travel preparation. The cost of a taxi from Malaga Airport to Nerja can vary depending on factors such as vehicle type and number of passengers. Rest assured, our commitment to affordability remains steadfast, and we aim to offer the most competitive rates in the industry.
Ready to Begin Your Nerja Adventure? Book Your Cheapest Taxi Now!
Don't let transportation worries dampen your excitement for your Nerja getaway. With Malaga Airport Taxi, you can have it all – affordability, comfort, and convenience. Book your taxi from Malaga Airport to Nerja today and embark on a journey that sets the tone for an unforgettable experience.
your journey from Malaga Airport to Nerja deserves the best, and that's exactly what Malaga Airport Taxi delivers. With our commitment to being the cheapest taxi from Malaga Airport to Nerja, you can enjoy a smooth and budget-friendly transition from the airport to your destination. Let us be your travel partner, ensuring your adventure begins and ends on a high note.
Is the journey from Malaga Airport to Nerja time-consuming? 
No, the journey from Malaga Airport to Nerja is relatively short and scenic. With our experienced drivers and efficient routes, you can expect a comfortable and timely arrival at your destination.
Can I book a taxi for a group?
Absolutely! Whether you're traveling solo, with family, or as a group, our fleet includes vehicles of various sizes to accommodate your needs. Simply indicate the number of passengers when booking, and we'll ensure you have a comfortable and spacious ride.