Taxi from Malaga Airport to Seville
When it comes to traveling from Malaga Airport to Seville, you want a reliable and comfortable transportation option that gets you to your destination hassle-free. Here at Malaga Airport Taxi, we take pride in providing a top-notch taxi service for your journey. In this article, we'll cover everything you need to know about our taxi service, including the distance from Malaga to Seville, the transfer process, and how to make your travel experience pleasant and enjoyable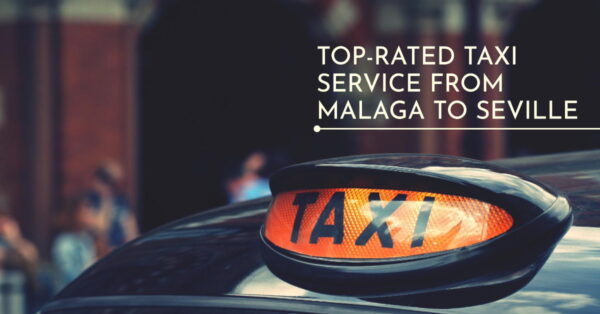 The Convenience of Malaga Airport Taxi
At Malaga Airport Taxi, we understand the importance of a smooth and enjoyable travel experience. Our taxi service is designed to provide you with the utmost convenience from the moment you arrive at Malaga Airport. Say goodbye to long queues and waiting for public transportation – our professional drivers will be ready to welcome you with a warm smile, handle your luggage, and take you directly to your destination in Seville.
The Distance from Malaga to Seville
The distance between Malaga and Seville is approximately 209 kilometers (130 miles). The journey takes you through the beautiful landscapes of Andalusia, offering picturesque views along the way. Our skilled drivers are familiar with the route, ensuring a safe and efficient trip to your desired location in Seville.
Seamless Transfers from Malaga Airport to Seville
We take pride in our seamless transfer process. Here's how it works:
 Online Booking
You can conveniently book your taxi service online through our user-friendly website. Just provide us with your travel details, and we will take care of the rest.
Meet and Greet
Upon your arrival at Malaga Airport, our driver will be waiting for you at the designated meeting point with a personalized sign, making it easy for you to spot them.
 

Modern and Comfortable Fleet
Our fleet consists of well-maintained, modern vehicles that offer a comfortable and smooth ride for our passengers.
Safety and Professionalism
Your safety is our priority. Our drivers are licensed, experienced, and knowledgeable, ensuring a professional and secure journey.
Direct Transport to Seville
Once you're settled in, we'll take you directly to Seville, making sure you reach your destination promptly.
Tips for Traveling from Malaga to Seville
Here are some valuable tips to make your travel experience even more enjoyable:
 

Plan Ahead
While our taxi service is designed to be efficient, it's always a good idea to plan your trip in advance, especially if you have specific time constraints.
Enjoy the Scenic Route
Consider taking the opportunity to enjoy the scenic beauty of Andalusia during the journey. The landscape offers a stunning visual treat.
Pack Snacks and Refreshments
If you enjoy munching on snacks during travel, don't forget to pack some for the journey.
Stay Connected
Keep your devices charged and carry a portable charger, ensuring you stay connected throughout the trip.
Relax and Unwind
Sit back, relax, and let our professional drivers take care of the rest. Enjoy the journey to the fullest.
Traveling from Malaga Airport to Seville is made easy and convenient with Malaga Airport Taxi. Our professional and reliable service ensures a pleasant journey, allowing you to focus on enjoying your time in Seville. Book with us now and experience the comfort and convenience of our top-notch taxi service.
Can I book a taxi at the last minute?
Yes, while we recommend booking in advance to secure your ride, we understand that sometimes plans change. You can check for availability and book a taxi at the last minute through our website or by contacting our customer support.
How long will the journey from Malaga to Seville take?
The journey usually takes around 2.5 to 3 hours, depending on the traffic and weather conditions.
Can I pay with a credit card?
Yes, we accept various payment methods, including credit cards, to provide you with a convenient payment experience.