Taxi From Malaga Airport to Cadiz: Ride in Style with Us
When it comes to traveling from Malaga Airport to Cadiz, one of the most convenient and efficient options available is the taxi service provided by Malaga Airport Taxi. This service offers a seamless journey, allowing travelers to reach their destination with comfort and ease. In this article, we will explore the benefits and features of this taxi service, along with essential information to know before embarking on the journey. Whether you are a tourist or a local resident, Malaga Airport Taxi is the ideal choice for your travel needs.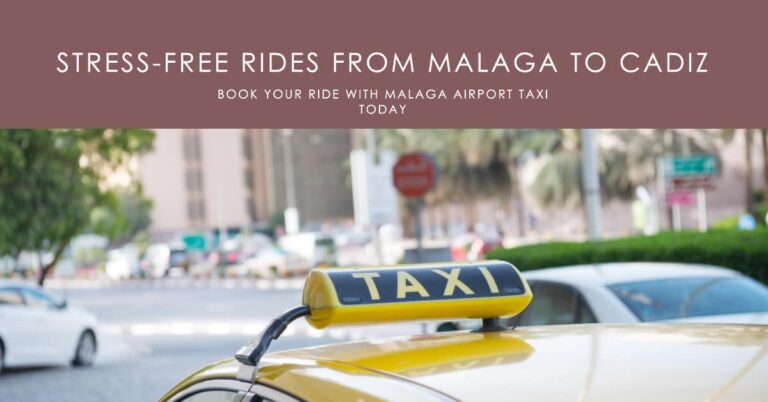 How to Get from Malaga to Cadiz
Traveling from Malaga to Cadiz can be an enjoyable experience if you choose the right transportation. Malaga Airport Taxi offers a direct and stress-free journey, taking you from the airport to Cadiz without any hassle. The professional drivers ensure a smooth ride, allowing you to relax and enjoy the picturesque landscapes during your trip.
The Convenience of Malaga Airport Taxi
One of the primary advantages of using Malaga Airport Taxi is the convenience it provides. After a long flight, the last thing you want is to worry about finding transportation to your destination. With Malaga Airport Taxi, you can pre-book your ride, ensuring a driver will be waiting for you upon your arrival. This eliminates the need to stand in long queues or struggle with heavy luggage. The taxi service aims to make your journey as comfortable and convenient as possible.
Distance from Malaga Airport to Cadiz
The distance between Malaga Airport and Cadiz is approximately 205 kilometers (127 miles). The journey takes you through scenic routes and beautiful landscapes of southern Spain, making it an unforgettable experience. Malaga Airport Taxi drivers are familiar with the best routes, ensuring you reach your destination in the shortest time possible while enjoying the scenic beauty along the way.
Stress-Free Travel from Cadiz to Malaga Airport
The convenience of Malaga Airport Taxi is not limited to the journey from the airport to Cadiz. If you're in Cadiz and need to catch a flight from Malaga Airport, you can rely on the same reliable taxi service to ensure a stress-free travel experience. Booking your ride in advance allows you to have peace of mind, knowing that you'll reach the airport on time for your departure.
The Perks of Choosing Malaga Airport Taxi
One of the significant advantages of selecting Malaga Airport Taxi for your journey from the airport to Cadiz is the array of perks it offers. These perks not only enhance your travel experience but also make the entire trip more enjoyable and convenient.
Ensuring Safety and Comfort
When it comes to transportation, safety and comfort are of utmost importance. With Malaga Airport Taxi, you can rest assured that your well-being is a top priority. The company takes all necessary measures to ensure that their vehicles are safe and comfortable for passengers. Moreover, the drivers are highly trained to handle various road conditions, making your ride smooth and secure.
Affordable Pricing and Transparent Billing
Malaga Airport Taxi offers competitive and transparent pricing, ensuring you know the fare upfront without any hidden charges. You can book the taxi service online or through their mobile app, making the process convenient and accessible. This straightforward pricing policy makes Malaga Airport Taxi an excellent choice for budget-conscious travelers.
A Smooth Arrival Experience
Arriving in an unfamiliar city can be overwhelming, but with Malaga Airport Taxi, you can rest assured that your journey will be smooth and enjoyable. The drivers will drop you off at your desired location in Cadiz, be it a hotel, tourist attraction, or any other place, saving you time and effort.
Exploring the Surrounding Areas
If you have some extra time before or after your flight, Malaga Airport Taxi can take you to explore the nearby areas of both Malaga and Cadiz. From historical landmarks to natural wonders, southern Spain has a lot to offer, and with a reliable taxi service at your disposal, you can make the most of your trip.
take the stress out of your travel plans and book your ride with Malaga Airport Taxi today. Experience a seamless journey from Malaga Airport to Cadiz with our safe, reliable, and comfortable taxi service. Don't miss out on this convenient option for your transportation needs. Book now and embark on a memorable trip with Malaga Airport Taxi!
Can I book a taxi for a large group of travelers?
Yes, Malaga Airport Taxi offers spacious vehicles suitable for both individuals and larger groups, ensuring everyone travels together comfortably.
Are the drivers knowledgeable about the local area?
Absolutely! The drivers of Malaga Airport Taxi are not only experienced in driving but also familiar with the local area, allowing them to provide helpful recommendations and insights.
Can I use Malaga Airport Taxi for travel from Cadiz to Malaga Airport as well?
Certainly! Malaga Airport Taxi offers its services for travel from both Malaga Airport to Cadiz and vice versa, ensuring a seamless travel experience in either direction.