Malaga Airport to Nerja Taxi Transfer
Are you planning a trip to the stunning coastal town of Nerja, Spain? Your journey begins the moment you touch down at Malaga Airport, and we, Malaga Airport Taxi, are here to ensure it's as smooth and convenient as possible. Our primary mission is to provide top-notch taxi transfers from Malaga Airport to Nerja, offering you the comfort and peace of mind you deserve. Whether you're traveling for leisure or business, our dedicated service is designed to cater to your every need.
Smooth and Reliable Airport Transfers from Malaga to Nerja
When it comes to traveling from Malaga Airport to Nerja, you want a transportation service that guarantees a smooth and reliable journey. Malaga Airport Taxi is your trusted partner in ensuring stress-free airport transfers from Malaga to Nerja. Our commitment to punctuality and professionalism makes your travel experience a breeze.
Why Choose Malaga Airport Taxi for Your Transfer Needs
At Malaga Airport Taxi, we understand that your journey to Nerja begins with your airport transfer. Here's why you should choose us for your transportation:
Reliable and Punctual Service:
When you book a taxi transfer from Malaga Airport to Nerja with us, you can count on our punctuality. We monitor your flight's arrival time and adjust our schedule accordingly to ensure you're not left waiting.
Comfort and Safety:
Your safety and comfort are our top priorities. Our modern, well-maintained vehicles are equipped with all the amenities you need for a relaxing ride. Our professional drivers are experienced, licensed, and dedicated to providing a safe journey.
Competitive Pricing
We offer competitive rates for our Malaga Airport to Nerja taxi transfers. You can trust us to provide transparent pricing with no hidden fees. Our commitment to affordability sets us apart from other transportation providers.
The Convenience of Our Malaga to Nerja Transfer Service
Our goal is to make your journey from Malaga Airport to Nerja as convenient as possible. Here's how we achieve it:
Easy Booking Process:
Booking your transfer with us is a breeze. You can make a reservation online through our user-friendly platform. Simply enter your travel details, and we'll take care of the rest.
Variety of Vehicles:
We offer a diverse fleet of vehicles to accommodate your specific needs, whether you're traveling solo, with family, or as part of a larger group. Choose from our standard taxis, spacious minivans, or luxurious cars.
Contact Us for Your Malaga to Nerja Taxi Transfer
Don't let transportation hassles dampen your travel experience. Book your taxi transfer from Malaga Airport to Nerja with us at Malaga Airport Taxi, and we'll ensure that you reach your destination smoothly and comfortably. Experience the convenience, reliability, and affordability of our service. Contact us today to make your reservation.
Convenient Transport from Malaga Airport to Nerja
Your journey from Malaga Airport to Nerja should be as convenient as possible, allowing you to start your vacation or business trip on the right note. Malaga Airport Taxi offers seamless transport from Malaga Airport to Nerja, ensuring you reach your destination comfortably and hassle-free. Discover why our service is the preferred choice for travelers seeking convenience and comfort.
Traveling on a budget? Our taxi services provide cost-effective solutions for your transfer from Malaga Airport to Nerja. While public transportation options exist, they may involve multiple transfers and can be inconvenient, especially if you have luggage. Our affordable taxi services offer the convenience of a direct transfer,
Your journey to the picturesque town of Nerja begins with your airport transfer, and Malaga Airport Taxi is here to make it seamless. We offer reliable, comfortable, and competitively priced taxi transfers from Malaga Airport to Nerja. Let us take care of your transportation needs, so you can focus on enjoying your trip to the fullest. Book with us today and experience the difference.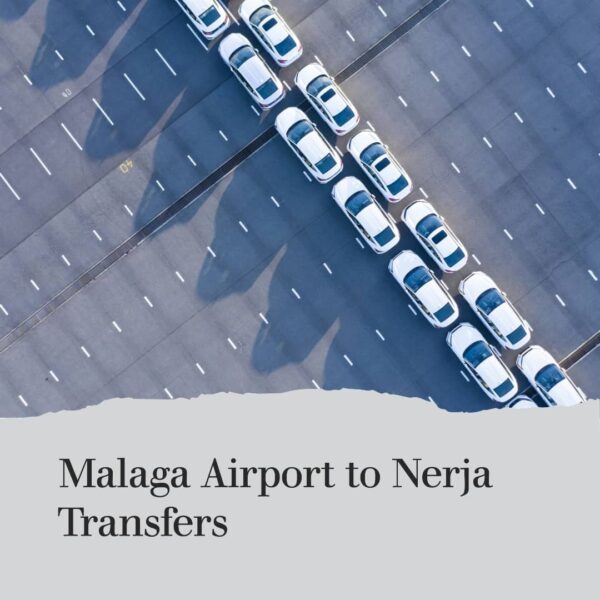 How far is Nerja from Malaga Airport?
Nerja is approximately 70 kilometers (43 miles) east of Malaga Airport, making it a convenient destination for travelers arriving at the airport.
How long does it take to travel from Malaga Airport to Nerja?
The travel time from Malaga Airport to Nerja typically takes around one hour, depending on traffic and road conditions. Our experienced drivers choose the most efficient routes to ensure a timely arrival.
Are your drivers licensed and professional?
Yes, all our drivers are licensed professionals who have undergone extensive training and background checks. They are skilled at providing safe and comfortable transfers, ensuring your peace of mind throughout the journey.