Are you searching for reliable taxi transfers from Malaga Airport to Estepona? Look no further! Malaga Airport Taxi is your trusted partner for a stress-free journey. We specialize in private transfers, ensuring your comfort and convenience from the moment you arrive at Malaga Airport. Whether you need a taxi from Malaga Airport to Estepona or a return trip from Estepona to Malaga Airport, we've got you covered.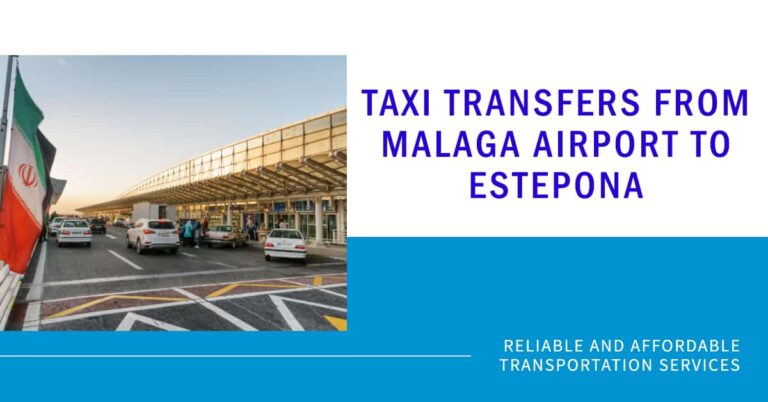 Effortless Taxi Transfers
Our Malaga Airport to Estepona taxi transfer service is designed to make your travel experience as smooth as possible. We understand that after a long flight, the last thing you want is to deal with the hassles of public transportation or unreliable taxis. With Malaga Airport Taxi, you can relax and enjoy a comfortable ride to your destination.
Private Transfer Excellence
Our private transfer from Malaga Airport to Estepona ensures that you have the vehicle all to yourself, allowing you to travel in comfort and style. Our professional and friendly drivers will be waiting for you at the airport, ready to assist with your luggage and ensure a safe journey to Estepona.
The Cheapest Transfer Option: Malaga Airport to Estepona
If you're looking for affordability without sacrificing quality, you've found it with Malaga Airport Taxi. We understand the importance of cost-effective travel, and that's why we offer the cheapest transfer option from Malaga Airport to Estepona. Our competitive rates ensure that you receive excellent value for your money. Experience a comfortable, reliable, and budget-friendly journey from the airport to Estepona. Your satisfaction is our top priority, no matter your budget constraints.
How Far is Estepona from Malaga Airport?
Are you wondering about the distance between Estepona and Malaga Airport? Estepona is approximately 80 kilometers (50 miles) away from Malaga Airport. Our taxi transfer service ensures a swift and comfortable journey, making the 80-kilometer distance feel like a breeze.
Taxi from Estepona to Malaga Airport
Heading from Estepona to Malaga Airport? Our taxi service operates in both directions, providing you with the same level of convenience and comfort for your return journey. Whether you're finishing your vacation in Estepona or need a ride to catch your departing flight, our professional drivers will be there to ensure a smooth and timely transfer. Say goodbye to the stress of arranging transportation, and trust us to get you to the airport hassle-free.
How Much is a Taxi from Malaga Airport to Estepona?
We offer competitive and transparent pricing for our taxi transfer service. The cost of the taxi ride from Malaga Airport to Estepona may vary depending on factors such as the number of passengers and the type of vehicle chosen. However, rest assured that our rates are reasonable and tailored to suit your budget.
Transport from Malaga Airport to Estepona
Transport from Malaga Airport to Estepona is a seamless and cost-effective solution for travelers seeking convenience and affordability. With a distance of approximately 80 kilometers between the airport and Estepona, our dedicated transport service ensures that you can relax and enjoy the journey without the stress of navigating public transportation or haggling with taxis. We prioritize transparency in pricing, so you won't encounter any hidden fees. Booking your transport is a straightforward process, and our professional drivers are committed to providing a comfortable and timely transfer. Choose our service, and you'll experience a hassle-free journey that combines affordability with exceptional quality.
At Malaga Airport Taxi, we take pride in offering top-notch taxi and transfer services from Malaga Airport to Estepona and vice versa. Our commitment to professionalism, punctuality, and customer satisfaction sets us apart from the rest. Experience the convenience, comfort, and reliability of our services and let us be your trusted partner for all your transportation needs in this beautiful region.
So why wait? Book your ride with Malaga Airport Taxi today and make your journey to Estepona a truly memorable one.
Is the taxi service available for group travel?
Yes, the taxi service from Malaga Airport to Estepona offers vehicles that can accommodate both individual travelers and groups, making it convenient for group travel.
Can I book a taxi for a one-way trip?
Absolutely! The taxi service allows you to book a taxi for one-way trips from Malaga Airport to Estepona or vice versa, catering to your specific travel needs.
Are the taxi drivers familiar with the local attractions in Estepona?
Yes, the taxi drivers have extensive knowledge of the local area and can provide you with information about popular attractions and places of interest in Estepona.