Gibraltar Airport To Estepona Taxi Transfer
Are you planning a trip to the picturesque town of Estepona from Gibraltar Airport? Look no further! Malaga Airport Taxi is here to provide you with a hassle-free and comfortable taxi service that takes you directly from Gibraltar Airport to Estepona. With our reliable and efficient service, you can enjoy a seamless transfer experience, allowing you to start your journey with ease.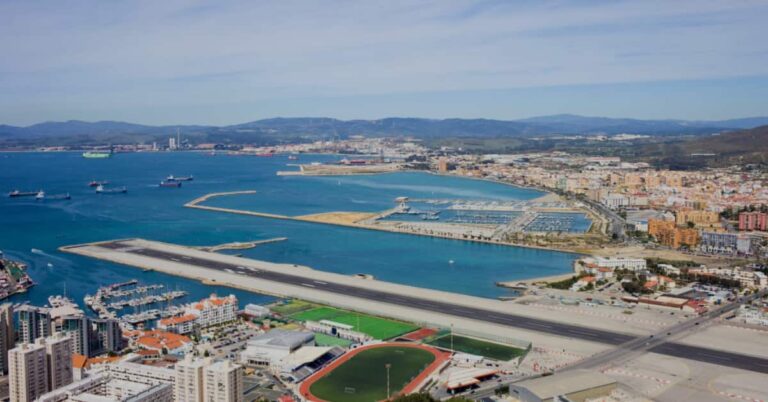 Navigating Your Way: Taxi from Gibraltar Airport to Estepona
When it comes to traveling between Gibraltar Airport and Estepona, convenience and efficiency are key. Our taxi service is designed to offer you a smooth and stress-free journey. Whether you're a solo traveler, a couple, or a group, we cater to your transportation needs with comfort and reliability.
The Convenience of Direct Transfers
Our taxi service provides a direct transfer from Gibraltar Airport to Estepona, eliminating the need for multiple transfers or waiting times. Once you arrive at the airport, our professional and friendly drivers will be there to greet you, assist you with your luggage, and ensure a prompt departure to your destination.
Competitive Pricing and Transparency
We understand the importance of budget-friendly travel. Our pricing is competitive, and we ensure transparency in all our charges. No hidden fees or surprises – just a straightforward pricing structure that allows you to plan your travel expenses accurately.
Professional and Experienced Drivers
Our team of drivers is not only skilled behind the wheel but also knowledgeable about the local area. Feel free to ask them for recommendations, travel tips, or any questions you might have during your journey. Your safety and comfort are our top priorities.
Comfortable and Well-Maintained Vehicles
Traveling should be a pleasant experience, and that's why we maintain a fleet of comfortable and well-equipped vehicles. From sedans to larger vehicles for groups, you can choose the option that best suits your needs. Sit back, relax, and enjoy the scenic route from Gibraltar Airport to Estepona.
How Much is a Taxi from Gibraltar to Estepona?
One of the most common questions travelers have is about the cost of the taxi service. We offer competitive rates that vary based on the type of vehicle you choose and the number of passengers in your group. To get an accurate quote, you can visit our website or contact our customer service team. Rest assured, our pricing is designed to offer value for your money.
Gibraltar to Estepona Transfer: Making Your Journey Memorable
Your journey from Gibraltar Airport to Estepona is not just about reaching your destination; it's about creating memorable experiences along the way. We believe in providing a service that goes beyond transportation, ensuring that your travel experience is comfortable, enjoyable, and stress-free.
Scenic Views
As you travel from Gibraltar to Estepona, you'll be treated to breathtaking views of the coastline and surrounding landscapes. Our drivers know the best routes to take, allowing you to enjoy the beauty of the region throughout your journey.
Convenience for Groups
Traveling with a group? Our spacious vehicles can accommodate your entire party, making it a convenient option for families, friends, or colleagues traveling together. Create wonderful memories together as you embark on this shared adventure.
On-Time Arrival
We understand the importance of punctuality, especially when catching flights or attending appointments. Our drivers are committed to getting you to your destination on time, allowing you to relax and enjoy your journey without unnecessary stress.
Estepona to Gibraltar Taxi: Your Return Journey
Just as we provide a seamless transfer from Gibraltar Airport to Estepona, we also offer reliable taxi services for your return journey. When your time in Estepona comes to an end, you can count on Malaga Airport Taxi to transport you back to Gibraltar Airport comfortably and punctually.
Traveling from Gibraltar Airport to Estepona has never been easier or more comfortable. With Malaga Airport Taxi's reliable service, you can look forward to a stress-free transfer experience, competitive pricing, and professional drivers who prioritize your comfort and safety. Enjoy the scenic views, make memories, and explore the beautiful region with ease. Book your taxi from Gibraltar Airport to Estepona with us and embark on a journey filled with convenience and delight.
Are your drivers knowledgeable about the local area?
Yes, our drivers are experienced and knowledgeable about the region. Feel free to ask them for recommendations or information about the area during your journey.
What payment methods do you accept?
We accept various payment methods, including credit/debit cards and cash. You can choose the option that's most convenient for you.
Is the pricing different for different vehicle types?
Yes, our pricing varies based on the type of vehicle you choose. We offer options for individuals as well as groups, so you can select the vehicle that suits your needs and budget.