Malaga Airport To Estepona
When it comes to traveling from Malaga Airport to Estepona, a comfortable and reliable taxi transfer service can make all the difference. At Malaga Airport Taxi, we understand the importance of a seamless journey, and that's why we're here to provide you with top-notch taxi transfer services. In this comprehensive guide, we'll walk you through everything you need to know about our service, ensuring your trip is as smooth as possible.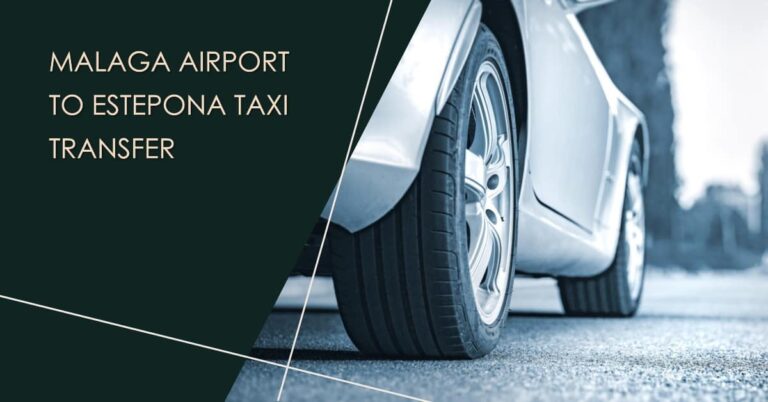 Malaga Airport to Estepona Taxi Transfer: Your Key to Convenience
Are you looking for a hassle-free way to reach Estepona from Malaga Airport? Look no further. Our Malaga Airport to Estepona taxi transfer service is designed to offer you the utmost convenience and comfort. Whether you're a solo traveler, a couple, or a group, we have the perfect solution for your transportation needs.
Why Choose Malaga Airport Taxi?
Reliability: We take pride in being punctual and dependable. When you book with us, you can trust that your taxi will be waiting for you at the airport, ready to whisk you away to your destination.
Comfort: Our modern and well-maintained vehicles ensure a comfortable ride, no matter the duration of your journey. We prioritize your comfort so that you can relax and enjoy the scenery.
Experienced Drivers: Our professional drivers have extensive knowledge of the Malaga to Estepona route, ensuring a safe and efficient journey. They are also fluent in English, making communication effortless.
Affordability: We offer competitive rates without compromising on quality.
Booking Your Taxi Transfer
Booking your Malaga Airport to Estepona taxi transfer with us is a breeze. Here's a simple step-by-step guide to ensure a smooth reservation process:
Visit Our Website: Head to our website, where you can easily access our booking platform.
Enter Your Details: Fill in your travel details, including your arrival date and time, the number of passengers, and any special requests you may have.
Choose Your Vehicle: Select the type of vehicle that suits your needs. We offer a range of options, from comfortable sedans to spacious vans for larger groups.
Confirm and Pay: Double-check your details, confirm your booking, and make a secure payment online. Rest assured that your information is safe with us.
Receive Confirmation: You'll receive a booking confirmation email with all the details of your reservation.
The Scenic Route: Malaga to Estepona
As you embark on your journey from Malaga Airport to Estepona, you'll be treated to breathtaking views of the Andalusian coastline. Here are some highlights along the way:
Marbella: A glamorous coastal town known for its beautiful beaches and vibrant nightlife.
Puerto Banús: Famous for its luxury marina and designer boutiques, it's a must-visit for those seeking a taste of the high life.
San Pedro Alcántara: A charming town with a historic center, perfect for a leisurely stroll.
Estepona: Finally, you'll arrive in Estepona, a picturesque coastal town known for its charming old town, beautiful beaches, and relaxed atmosphere.
At Malaga Airport Taxi, we take pride in offering a seamless and enjoyable transfer experience from Malaga Airport to Estepona. Our commitment to reliability, comfort, and affordability sets us apart as the go-to choice for travelers seeking convenience. Trust us to make your journey to Estepona a memorable one.
If you're ready to experience stress-free travel, book your Malaga Airport to Estepona taxi transfer with us today. We look forward to being your trusted transfer partner.
What is the distance from Malaga Airport to Estepona?
The distance is approximately 80 kilometers, and the journey typically takes around 1 hour.
Are your drivers licensed and experienced?
Yes, all our drivers are licensed professionals with extensive experience and knowledge of the Malaga to Estepona route.
Can I make a last-minute booking?
While we recommend booking in advance to secure your transfer, we do accept last-minute bookings, subject to vehicle availability.