Malaga Airport to Mijas Pueblo: Taxi Adventure Awaits
When planning a trip to the picturesque village of Mijas Pueblo in Spain, one of the first things that may come to mind is how to get there conveniently and comfortably from Malaga Airport. Luckily, Malaga Airport Taxi provides an excellent and reliable transfer service to Mijas Pueblo, ensuring you kickstart your Spanish adventure without any hassle. In this article, we will explore the benefits of opting for a taxi transfer from Malaga Airport to Mijas Pueblo and discover the captivating experiences this charming village has to offer.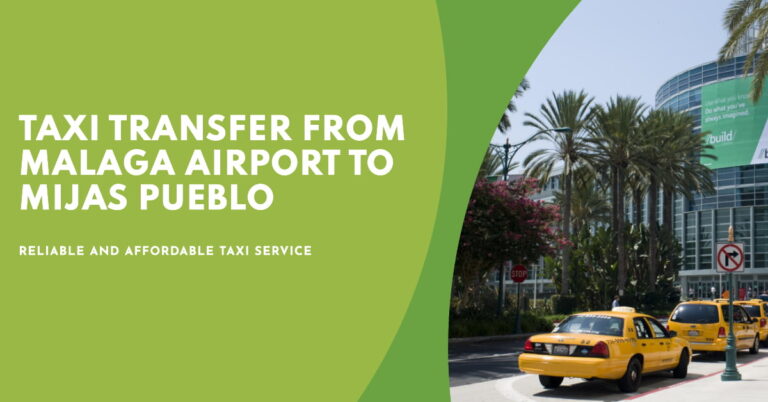 The Convenience of Taxi Transfers
Arriving at a new destination can be both exciting and overwhelming. However, opting for a taxi transfer from Malaga Airport to Mijas Pueblo can take away the stress of figuring out public transportation or navigating unfamiliar roads. With a pre-arranged taxi service, you can relax knowing that a professional driver will be waiting for you upon arrival, ready to take you to your destination promptly.
Malaga Airport to Mijas Pueblo: A Scenic Journey
The journey from Malaga Airport to Mijas Pueblo is nothing short of spectacular. As you leave the bustling airport behind, you'll be greeted by the stunning landscapes of the Andalusian region. The scenic drive through the rolling hills and lush countryside is a wonderful way to immerse yourself in the beauty of southern Spain even before reaching your destination.
What to Expect in Mijas Pueblo
Mijas Pueblo is a charming white-washed village perched on the mountainside, offering a delightful blend of traditional Spanish architecture and modern amenities. Its narrow cobbled streets, adorned with colorful flowers, lead to breathtaking viewpoints that overlook the azure Mediterranean Sea.
Exploring the Delights of Mijas Pueblo
The Enchanting Village Center
The heart of Mijas Pueblo lies in its enchanting village center, where you can stroll along the streets, indulge in shopping for local crafts, and savor the authentic Spanish ambiance. The warmth and hospitality of the locals make this place even more welcoming.
The Magnificent Views from Mirador de la Sierra
For a truly awe-inspiring experience, make your way to Mirador de la Sierra. This vantage point offers panoramic views of the entire coastline, making it a perfect spot for memorable photographs and tranquil reflection.
Traditional Spanish Cuisine to Savor
No visit to Mijas Pueblo is complete without relishing the delectable Spanish cuisine. Whether you crave tapas, paella, or churros dipped in rich chocolate, the village boasts numerous eateries that will leave your taste buds dancing with joy.
 The Artistic Gems of Mijas Pueblo
Mijas Pueblo has long been an inspiration for artists, and you'll find evidence of this in its art galleries and studios. Take a leisurely stroll through these creative spaces to witness the artistic flair of local painters and sculptors.
How Much is a Taxi from Malaga Airport to Mijas Pueblo?
The cost of a taxi from Malaga Airport to Mijas Pueblo may vary depending on the time of day and the number of passengers. However, the convenience and comfort it offers are well worth the price. It's advisable to check with Malaga Airport Taxi in advance to get an accurate quote and pre-book your transfer for a smooth journey.
Tips for a Memorable Visit
To make the most of your time in Mijas Pueblo, consider these tips:
Wear comfortable footwear to explore the village's hilly terrain.

Carry sunscreen and a hat, especially during the warm summer months.

Engage with the locals and embrace their vibrant culture.
Discovering Nearby Attractions
While Mijas Pueblo itself is a treasure trove of experiences, there are also captivating attractions nearby that are worth exploring.
The Sandy Shores of Costa del Sol
The beautiful beaches of Costa del Sol are just a short drive away. Bask in the sun, take a refreshing dip in the Mediterranean waters, or indulge in various water sports to add excitement to your vacation.
Embracing Andalusian Culture in Malaga City
Malaga City, the birthplace of Pablo Picasso, is a vibrant metropolis with a rich cultural heritage. Explore its museums, historic sites, and buzzing nightlife to get a taste of authentic Andalusian life.
A taxi from Malaga Airport to Mijas Pueblo is the ideal way to kickstart your Spanish adventure. The convenience, comfort, and stunning views along the journey make it an experience to cherish. Once you arrive in Mijas Pueblo, the charming village will captivate you with its cultural richness, picturesque beauty, and warm hospitality. Whether you want to wander through the quaint streets, admire artistic treasures, or simply savor mouthwatering Spanish delicacies, Mijas Pueblo has something to offer for every traveler. Book your ride today!
Is pre-booking a taxi transfer necessary?
Pre-booking a taxi transfer is recommended to secure your ride and ensure a smooth transfer from Malaga Airport to Mijas Pueblo, especially during peak travel seasons.
Are taxis readily available at Malaga Airport?
Yes, taxis are available at Malaga Airport. However, pre-booking allows you to avoid potential waiting times and ensures a stress-free arrival.
Can the taxi accommodate a large group with luggage?
Yes, Malaga Airport Taxi provides