Taxi from Malaga Airport to City Centre
Traveling can be both exciting and stressful, especially when arriving at a new destination. If you're landing at Malaga Airport, a crucial consideration is finding a reliable and convenient means of transport to the city centre. Among the various transportation options available, a taxi service stands out as one of the most convenient and hassle-free ways to reach your destination comfortably.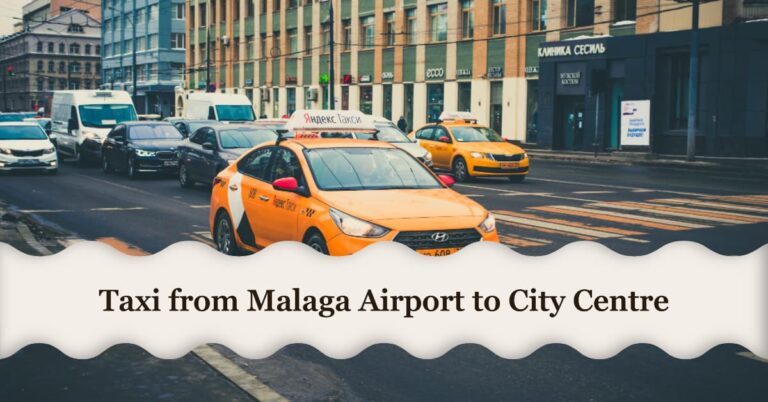 The Importance of Convenient Airport Transportation
When arriving at Malaga Airport, the last thing you want is to deal with the stress of finding suitable transportation to the city centre. Opting for public transportation might involve multiple transfers and be time-consuming. On the other hand, driving yourself may not be ideal if you are unfamiliar with the roads and traffic patterns in a new city. This is where a reputable taxi service comes to the rescue.
Meet Malaga Airport Taxi: Your Reliable Transport Service
Malaga Airport Taxi is a top-notch transportation service that offers safe, reliable, and comfortable rides from Malaga Airport to the city centre. With a team of professional drivers and a fleet of well-maintained vehicles, they ensure that your journey is pleasant from start to finish.
Taxi from Malaga Airport to City Centre - A Seamless Journey
When you choose a taxi from Malaga Airport to the city centre, you can expect a seamless journey. Upon arrival, the driver will be waiting for you at the designated meeting point, holding a sign with your name for easy identification. This personalized service saves you time and ensures a stress-free experience.
Taxi Prices from Malaga Airport to City Centre
One of the main concerns for travelers is the cost of transportation. Malaga Airport Taxi offers competitive and transparent pricing, so you don't have to worry about unexpected expenses. The taxi fare from the airport to the city centre is reasonable, considering the convenience and comfort it provides.
How to Get from Malaga Airport to City Centre
Getting from Malaga Airport to the city centre is straightforward with Malaga Airport Taxi. The booking process is simple and can be done online in advance or upon arrival at the airport. You can also make a reservation via phone, ensuring a taxi will be ready and waiting for you when you arrive.
Tips for Traveling from Malaga Airport to City Centre
To make your journey even smoother, here are some essential tips for traveling from Malaga Airport to the city centre:
Plan Ahead: Pre-book your taxi to avoid waiting in queues.
Keep Cash Handy: While credit cards are accepted, having cash for emergencies is advisable.
Comfortable Clothing: Dress appropriately for the weather in Malaga to ensure a pleasant ride.
Informative Driver: Don't hesitate to ask the driver for local tips and recommendations.
What Sets Malaga Airport Taxi Apart
What sets Malaga Airport Taxi apart from other transportation options is their dedication to customer satisfaction. Their drivers are not only skilled at navigating the city, but they also offer a friendly and welcoming demeanor, ensuring that your journey is enjoyable.
Enjoy a Smooth Journey to the City Centre
With Malaga Airport Taxi, your journey to the city centre becomes an enjoyable part of your travel experience. Sit back, relax, and soak in the sights as you're taken directly to your destination without any hassle or delays.
Discover Malaga's Beautiful City Centre
Once you arrive in the city centre, you'll be surrounded by the rich history, stunning architecture, and vibrant culture that Malaga has to offer. Take some time to explore the local attractions, indulge in delicious cuisine, and create lasting memories in this beautiful city.
choosing Malaga Airport Taxi for your transportation needs from the airport to the city center ensures a seamless and enjoyable journey. With professional drivers, competitive prices, and a commitment to customer satisfaction, you can travel with confidence and explore the beauty of Malaga's city center. So, book your taxi now and experience convenience and comfort from the moment you land. Enjoy your trip!
 Is it necessary to pre-book a taxi from Malaga Airport to the city centre?
Pre-booking is not mandatory, but it is highly recommended, especially during peak travel seasons. Booking in advance ensures a timely pickup and guarantees you a taxi even during busy hours.
How long does it take to reach the city centre from Malaga Airport by taxi?
The travel time may vary depending on traffic conditions and your specific destination in the city centre. On average, it takes around 15 to 25 minutes to reach the city centre from the airport.
Are the taxis from Malaga Airport to the city centre spacious enough for luggage?
Absolutely! The taxis are equipped to accommodate luggage comfortably, ensuring you have a stress-free ride with all your belongings.