Smooth and stress-free travel begins with dependable airport taxi transfers. If you're headed to or from the lively city of Malaga, your perfect travel companion awaits – Malaga Airport Taxi. Our dedicated service ensures a timely, comfortable, and efficient journey, making your travel experience truly memorable.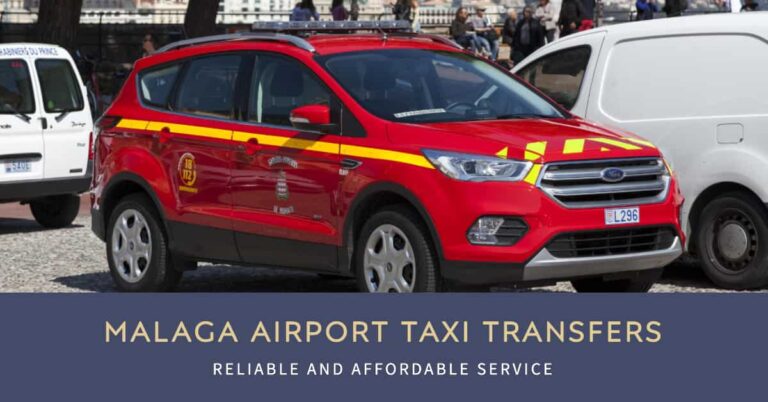 Convenience at Your Fingertips: Airport Transfer Malaga Airport
Arriving in a new city can be overwhelming, especially after a long flight. With our airport taxi transfers, the journey from Malaga Airport to your destination becomes a breeze. No more grappling with heavy bags on public transport or deciphering complex routes. We offer door-to-door service, ensuring you reach your hotel, meeting, or leisure spot hassle-free.
The Edge of Choosing Our Airport Taxi Transfers
Reliability Beyond Compare
When time is of the essence, rely on our punctuality. Our professional drivers and well-maintained vehicles guarantee your prompt pickup and drop-off.
Comfort Redefined
Ease into your travel experience. Our spacious and cozy taxis provide the ideal environment to unwind after your flight.
Local Wisdom at Your Service
Our drivers are more than chauffeurs – they're also local experts. Feel free to ask for recommendations or insights about Malaga during your ride.
Safety as Standard
Your safety is paramount. Our seasoned drivers adhere to all traffic regulations, ensuring a secure journey from start to finish.
Booking your transfer is a breeze. Visit our user-friendly website or call us with your travel details. Leave the logistics to us, ensuring a seamless journey from the airport to your chosen destination. Transparent pricing and commitment to quality make us the preferred option for airport transportation in Malaga.
Unparalleled Convenience for Solo and Group Travelers
Traveling solo or in a group? Our airport taxi transfers cater to all your needs.
Solo Explorers:
For those embarking on a solo adventure, our airport taxi service offers a secure and efficient way to reach your destination. Relax in the comfort of our taxis while our experienced drivers navigate the city for you. Whether you're here for business or leisure, we ensure your journey is stress-free from start to finish.
Group Getaways:
Traveling with family or friends? Our spacious taxis can accommodate your group comfortably. With our airport transfer service, you can keep your group together and enjoy the journey as a cohesive unit. No need to split up or wait for multiple cabs – we have you covered.
Dependable, comfortable, and efficient – Malaga Airport Taxi embodies all this and more. We're dedicated to eliminating travel stress, allowing you to savor every moment in Malaga. Bid adieu to travel troubles and embrace convenience with our top-notch airport taxi service. Book your transfer now to embark on a seamless journey that kickstarts your Malaga adventure the right way.
How do you ensure the safety of passengers during the journey?
Safety is our priority. Our experienced drivers follow all traffic regulations, and our vehicles are well-maintained to ensure a secure and comfortable ride.
Can I book an airport taxi transfer for a group of travelers?
Absolutely! Our spacious taxis can accommodate groups of various sizes, making it convenient for families, friends, or colleagues to travel together.
Can I choose a specific route for my journey?
Certainly! If you have a preferred route or want to explore certain areas, feel free to let our driver know, and they will accommodate your request whenever possible.