Stress-Free Travel: Malaga Airport Transfers to Marbella
When it comes to seamless and convenient travel experiences, Malaga Airport Transfers to Marbella stand out as the ultimate choice. Whether you're a leisure traveler or a busy executive, the journey between Malaga Airport and the picturesque town of Marbella becomes a hassle-free adventure with our dedicated taxi service. Our commitment to punctuality, comfort, and exceptional service sets us apart, ensuring you arrive at your destination with a smile.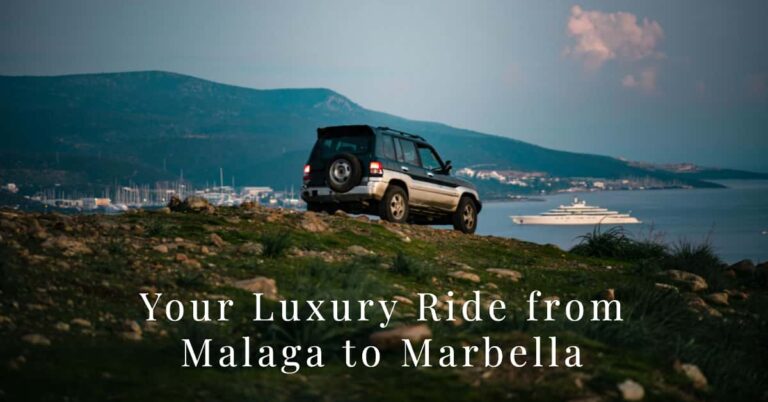 Why Choose Our Malaga Airport Transfers to Marbella Service?
 That Sets the Standard
At Malaga Airport Taxi, we understand that every minute counts in your travel plans. Our commitment to punctuality is unwavering. From the moment you step off your flight, our professional drivers will be ready to whisk you away to Marbella. No more waiting, no more stress—just prompt and reliable service that respects your time.
Comfort Redefined
After a long flight, the last thing you want is discomfort during your onward journey. Our fleet of modern, well-maintained vehicles guarantees a comfortable ride. Sink into plush seats, enjoy climate control, and let our skilled drivers navigate the roads while you relax. Your comfort is our priority.
Professionalism and Local Expertise
Navigating a new destination can be daunting, but with our experienced drivers, you're in safe hands. Our team possesses in-depth local knowledge, ensuring you the quickest and smoothest route to Marbella. Need recommendations for restaurants or attractions along the way? Don't hesitate to ask; we're more than just a taxi service—we're your travel partners.
The Benefits of Malaga Airport Transfers to Marbella
Stress-Free Door-to-Door Service
Gone are the days of juggling luggage and worrying about public transportation. With our Malaga Airport to Marbella transfer service, your journey becomes seamless. We'll pick you up at the airport, help with your bags, and drop you off right at your accommodation in Marbella. Say goodbye to the hassles of transfers.
Unparalleled Convenience
Our booking process is a breeze, ensuring convenience from the moment you decide to travel. With a few clicks, you can reserve your transfer, providing us with your flight details and accommodation information. On the day of your arrival, our driver will be there, holding a sign with your name, ready to guide you to your ride.
Cost-Effective Luxury
Luxury doesn't have to come at a steep price. Our Malaga Airport Transfers to Marbella service offers you a taste of affordable luxury. Enjoy the comfort, convenience, and style of a private transfer without breaking the bank. Our competitive rates make your journey exceptional without compromising your budget.
Elevate your travel experience with Malaga Airport Transfers to Marbella. From punctuality and comfort to local expertise and stress-free convenience, we've crafted our service to cater to your needs. Let us be your reliable partner in ensuring a memorable journey from the moment you touch down in Malaga to the time you arrive at the stunning destination of Marbella. Book your transfer today and experience the difference firsthand. Your adventure begins with us.
Are the drivers experienced?
Absolutely. Our professional drivers possess local expertise and years of experience, ensuring the best routes and a safe, smooth journey to Marbella.
Is the service available around the clock?
Yes, our service operates 24/7. No matter when your flight arrives or departs, we're here to provide timely transfers.
How comfortable are the vehicles?
Our fleet consists of modern, well-maintained vehicles designed for comfort. Enjoy plush seating, climate control, and a relaxing ride to Marbella.