Cheap Transfers from Malaga Airport to Marbella
When it comes to traveling from Malaga Airport to Marbella, you want a hassle-free and cost-effective transportation solution. That's where we, Malaga Airport Taxi, come into play. We specialize in providing reliable and budget-friendly taxi services, ensuring that your journey from the airport to Marbella is not only comfortable but also affordable. If you're looking for a cheap taxi from Malaga Airport to Marbella, you've come to the right place.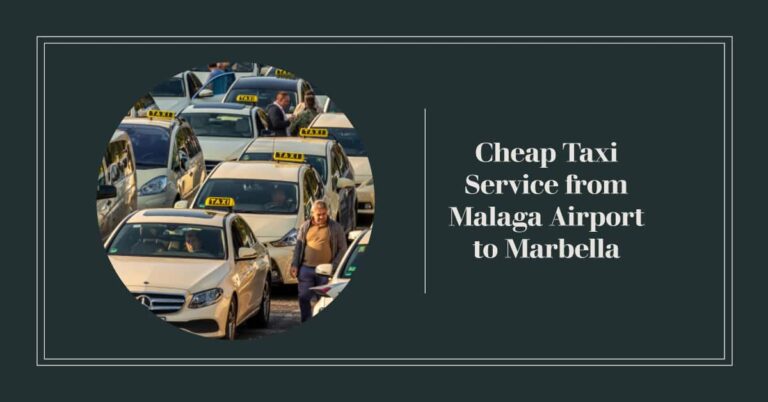 Your Comfort, Our Priority
At Malaga Airport Taxi, we understand the importance of a stress-free airport transfer experience. Whether you're arriving in Malaga for business or leisure, your journey to Marbella should be smooth and comfortable. That's why we offer a range of benefits to ensure your satisfaction:
Prompt and Punctual Service
We value your time, and we know that waiting around at the airport is the last thing you want to do. Our drivers are always punctual, ready to pick you up at the airport and transport you to your destination in Marbella without delay. You can trust us to be there when your flight lands, ensuring a seamless transition from the airport to your final destination.
Competitive Pricing
Our primary goal is to provide you with a cost-effective transportation solution. We offer some of the most competitive rates for transfers from Malaga Airport to Marbella. We believe that quality service doesn't have to come at a high price. With us, you get the best of both worlds – affordability and reliability.
Professional Drivers
Our team of experienced and professional drivers is well-versed in the local area. They know the best routes, ensuring that you reach Marbella quickly and safely. Our drivers are courteous, helpful, and dedicated to making your journey as pleasant as possible.
Cheap Transfers from Malaga Airport to Marbella
We understand that travelers have varying needs, which is why we offer different vehicle options to cater to your preferences and group size. Whether you're traveling alone, with family, or in a larger group, we have the right vehicle to accommodate you. Our fleet is well-maintained, ensuring a comfortable and enjoyable ride.
How to Book Your Cheap Taxi
Booking your taxi from Malaga Airport to Marbella with us is a breeze. You can make a reservation in advance through our website or contact our customer service team for assistance. We offer a user-friendly online booking system that allows you to select your pickup and drop-off locations, choose your vehicle type, and schedule your ride according to your flight's arrival time.
Affordable Excellence, Every Time
At Malaga Airport Taxi, we take pride in providing an affordable and top-notch taxi service. Our commitment to customer satisfaction has made us a preferred choice for travelers seeking cheap transfers from Malaga Airport to Marbella. Join our list of satisfied customers and experience the convenience and affordability of our services for yourself.
Whether you're a solo traveler, a family on vacation, or a group of friends exploring Marbella, we have the perfect transportation solution for you. Say goodbye to the stress of finding reliable and cheap airport transfers – choose Malaga Airport Taxi and start your journey to Marbella on the right note.
When it comes to getting from Malaga Airport to Marbella without breaking the bank, look no further than Malaga Airport Taxi. We offer cheap and dependable transfers, ensuring that your travel experience is as smooth as possible. Book your affordable taxi with us today and enjoy a stress-free journey to Marbella. Affordable excellence is just a click away!
What types of vehicles do you offer for transfers to Marbella?
We offer a range of vehicles to accommodate various group sizes and preferences, including standard cars, minivans, and luxury vehicles.
Are your drivers licensed and experienced?
Yes, all our drivers are licensed professionals with extensive experience in providing airport transfers in the Malaga area. Your safety and comfort are our top priorities.
How can I pay for my taxi ride?
We accept various payment methods, including credit cards and cash. You can choose the most convenient option for you at the time of booking.